UHSAA Board-of-Trustees Votes To Play Fall Season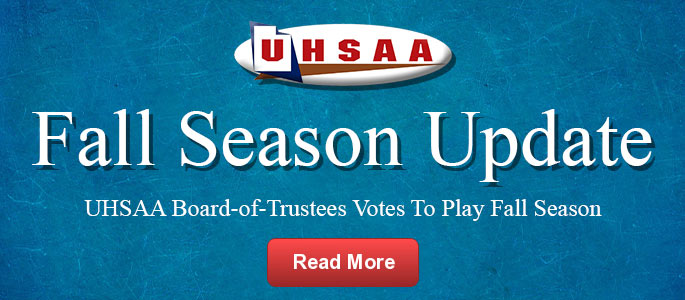 UHSAA Board-of-Trustees Votes To Play Fall Season
July 9, 2020—PRESS RELEASE
UHSAA Board-of-Trustees Votes To Play Fall Season
MIDVALE, Utah (July 9, 2020) - In a meeting Thursday, the Utah High School Activities Association (UHSAA) Board-of-Trustees moved to continue statewide plans to begin the Fall season of education-based activities in Utah as scheduled, in accordance with plans to return to in-person or blended learning at high schools across the state.
The Association's governing board also affirmed a stance of allowing schools and local school districts, in conjunction with local government leaders and health department officials, to determine whether participation in high school activities is allowable and advisable under statewide and local guidelines. The Board-of-Trustees will meet in late July to continue dialogue regarding statewide health recommendations and best practices.
To visit the UHSAA Sports Medicine Advisory Committee's 'Return-To-Play' recommendations, please click HERE .
Contact: Jon Oglesby, UHSAA Assistant Director, joglesby@uhsaa.org
About UHSAA
The UHSAA is the leadership organization for high school athletic and fine arts activities in Utah. Since 1927, the UHSAA has led the development of education-based interscholastic athletic and fine arts activities that help students succeed in their lives. The belief is these activities are an essential part of the high school experience and go a long way to improving academic performance and producing better citizens... Read More